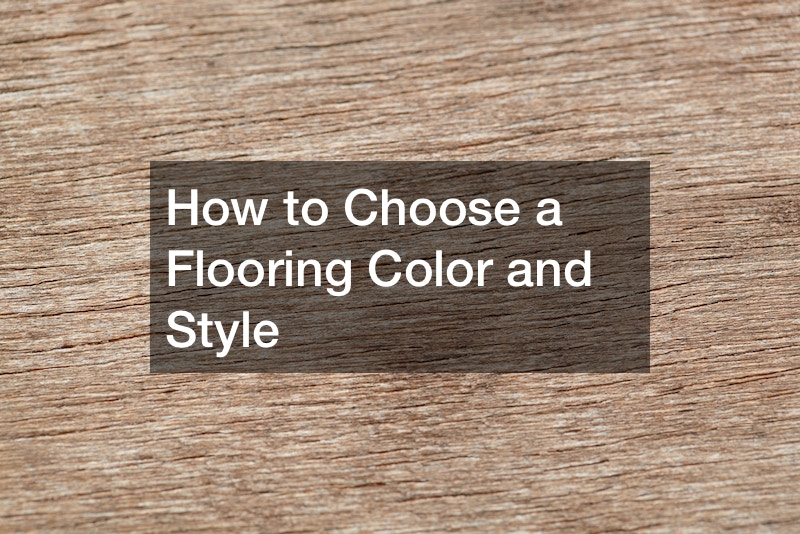 Home remodeling is a lot of fun, and installing new flooring can be quite exciting. Of course, a lot of planning goes into these renovations and it's important that you know how to choose a flooring color as well as a style that will look good in your home.
This is something that will likely be in your house for many years to come, so making the right decision is essential.
Many factors influence the decisions you'll end up making, and it's worth considering all these factors before you commit to a color and style.
This article aims to make your decision-making process a little bit easier by proving all the information you'll need in an easy-to-digest manner. First, we'll discuss how to choose a flooring color and then we'll look at how to choose a style.
Let's get right into it, shall we?
How to Choose the Right Floor Color
First up, we will discuss how to choose a flooring color that won't look odd or feel wrong. Although this sounds simple enough, there is actually a lot you need to consider. Elements like the color of the walls and your furniture can impact how a floor's color looks, as well as the lighting and the size of the room itself.
Consider Room Size
The color that you choose for the flooring will affect how big or small the area feels. If you have a nice big room, going with a dark color will make the room feel smaller. This can be a good thing because that can mean even a large room feels intimate and cozy.
If the room is small, you can create the illusion of more space by choosing a lighter color. You can especially mimic space if your flooring is glossy and reflective. Such reflection can create a sense of openness and make the room seem wider.
You can choose a patterned floor as one of the main features of a small room as well. It creates interest and gives the area a distinct and interesting character.
Lighting Matters
The lighting of your space can greatly affect how it feels and how it looks. That's why it's important to consider the natural light you have coming into the room where you want to put new floors.
If the room is rather dark, you can choose a lighter color to make it feel a bit airier. Stick to neutral colors and don't choose anything too overpoweringly bright.
If you are lucky enough to have a room that is flooded with light, you can go with almost any color you want and it will still look good.
Remember Contrasting and Complementing Colors
It is important to always remember that colors are complicated, and you need to remember the contrasts and complementing colors when making your selection. If you want to know what's one of the most important factors regarding how to choose a flooring color, this is it. Your furniture's color, as well as the color of your walls, matters when choosing the color of your floors.
Even elements such as your curtains, woven woods, or shades can have an effect on how good a floor's color looks. Although you can match colors for a uniform feeling, it can feel a bit boring.
On the other hand, if the colors are too contrasting, it won't be pleasing to the eye and can even create a cluttered feel in the room. That's why you need to plan this project carefully and not just settle for a color you like. See the bigger picture (and research color theory a little bit) and then make your choice.
Keep Mood in Mind
When you think about how to choose a flooring color, the mood you create is an important factor to always keep in mind. What kind of feeling do you want to create in this room? Do you want it to feel formal and sophisticated or cozy and inviting?
Dark colors and cool tones can create that formal feeling, while dark colors and warm tones feel a lot cozier. Pale or cool-toned floors can make the room seem brighter and feel airier.
If you want the room to be a sunny and happy space, you can choose a floor color with shades of yellow. For a peaceful and tranquil room, choose light-toned or light-gray wood.
For a rustic feel, opt for brown colors and, if you want the room to be classy and elegant with a hint of the dramatic, red and black are great colors.
Think About the Type of Flooring
Before you commit to a color, you have to consider the type of flooring you want (we'll get to that a little later in the article). It is important that the materials and colors complement each other or something will always feel 'off' about the room.
There are many fantastic materials to choose from, such as vinyl, carpet, hardwood, and laminate. Keep in mind that hiring a waterproofing service to help you ensure the protection of your floor may be necessary to prolong its lifespan.
Typically, vinyl floors that look like whitewashed wood are a good choice, and they can help you make the room feel more spacious. Hardwood floors are available in colors that vary from light to dark, and there are patterned options as well.
Carpets are incredibly versatile and you can really play around with what you choose here. There are so many colors and patterns to choose from, you'll take a while to make a decision. Carpets can make a room feel comfortable and relaxing, inviting you in to sit down and get cozy. Laminate floors are available in options that look like wood as well as patterns. Choose something that will create the atmosphere you want.
Be Experimental
It is important that you take the color of your floor seriously because it's something that you can't undo. But that doesn't mean you can't experiment a little bit. If you want to incorporate your personality into your home, you can do so with the floor color you choose.
Nothing is stopping you from having abstract patterns on your flooring. Perhaps you prefer chevron or chequered designs and epoxy floor coatings. It all comes down to what you like. Use your preferences and the knowledge you pick up here to come up with unique floors that make your home somewhere you want to be all day.
Try to Create a Balance
Although there is a lot of advice given here on how to choose a flooring cover, it is ultimately up to you to strike a balance that works for you and your home. You shouldn't choose a color simply because it creates a specific mood or because it's your favorite.
Balance everything out by comparing shades and looking at the room from all angles. Don't indulge in an overdose of color, but don't be so careful that you end up choosing something bland.
It can take a while to create this balance, so give yourself enough time and think about it carefully. If you can, use interior decorating simulator software or something similar to get a visual idea of how your room will look with the new flooring.
Think About Timeless Shades
Last, but not least, on this list of tips on how to choose a flooring color, it is highly recommended that you consider timeless shades. It can be difficult to make a decision and if you find yourself unable to choose, go with what has been working for others for years.
There is a reason why some shades have been around for decades and are used by many home decorators. In most cases, you can't go wrong with these shades, especially if you choose a neutral color palette.
If you want something bold but timeless, white and yellow are good options, as well as grey. Consider all the undertones and shades of these colors and imagine what they would look like when used in your room. Being able to visualize your ideas in your mind is key to understanding how to choose a flooring color that will look amazing.
How to Choose Flooring Style
Now that we've looked at how to choose a flooring color, we can move on to the style side of things. The advice shared here will be very helpful when you get to the tile flooring store (or wherever you'll end up buying) and know exactly what to look for.
Consider Space
The space that you have is important when it comes to knowing how to choose a flooring color, and it matters for the style you choose as well. The size and shape of your room can play a bigger role than most people expect.
When you choose a color, you need to remember that light tones and shades create a spacious feeling, while darker colors feel more cozy and intimate. The same applies to the type of flooring you install. Hardwood floors or vinyl that look like natural wood evoke a cozy atmosphere, while laminate and carpets can be brighter and more colorful for a happy, warm ambiance.
Remember Your Personal Style
While it's important that you remember everything discussed here and take it into consideration before making your final choice, you need to keep in mind what you personally like. There's nothing worse than choosing something because it makes sense but not liking how it looks.
Choose a flooring style that makes you happy. After all, you're the one who will be spending your time in the room with the new flooring. Don't get carried away by the ideas shared on home decoration websites, in magazines, or on Pinterest.
Use it all for inspiration, but choose a style that you can love and want to see in your home for many years to come.
Be Practical
You need to be practical when choosing the type of flooring you want to install. How much will the room be used? Will children and pets be running over the floor all the time? Then you may be better off not choosing highly expensive wooden floors.
This is an especially important factor if you're choosing flooring for your kitchen. There is no kitchen without spills and messy accidents, so choose a floor style that won't be damaged or ruined this way.
What's Your Budget?
All the ideas and advice shared in this article will help you make an informed and good choice. But you need to remember that your budget should take priority when it comes to choosing new flooring.
Installing new floors is about more than how the new floor looks. There is a lot that needs to happen before you can enjoy your newly-renovated room. You may need to hire flooring services or a construction team to help you remove the old floor and put in the new flooring. This costs money.
So first, and foremost, build a reasonable budget and stick to it. If you can, spend less than you planned so you have extra money for unforeseen circumstances that might pop up.
Remember Maintenance
Lastly, you need to remember that nothing lasts forever, at least not without a lot of help! Your floors will need maintenance, no matter how much it costs. The different types of flooring have their own kinds of maintenance, so make sure you know what you're getting yourself into before making a choice.
For the most part, vinyl and laminate flooring are low-maintenance, but hardwood floors and carpets will need a lot of attention to stay in a good condition.
Choose the Perfect Flooring for Your Home
Now that you know how to choose a flooring color and style that you'll be comfortable with and make your home look and feel awesome, you can start shopping around!
While you're out there in the shopping centers and markets, you should also start searching for a concrete contractor and a painting contractor if your home renovation project is going to expand beyond your flooring. If you're planning a big project, don't forget that proper construction monitoring is the key to a smooth and successful experience.